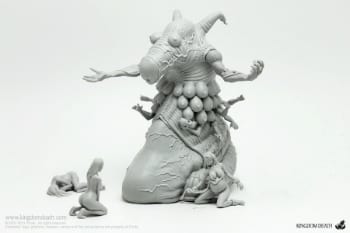 5 They've Grown Up With You
As I grew into big-boy clothes (backwards hats and pants with too many pockets), board games slowly dropped to the status of "easy gifts for relatives to give me at Christmas." Even though they had the best commercials in the history of advertising, that was that. Board games were out, and wondering how I'd look with a sweet wallet chain was in.
But behind the scenes, board games were going through puberty too. Not only were they becoming more complex, but they were also growing up. Sure, there have always been games made for older hobbyists, but what I mean is that this is now a character from a commercially popular board game
If you found yourself in a prison cell with a hardened criminal asking what you're in for, what's the most embarrassing possible answer? We're going to go with "Magic: The Gathering card counterfeiter."
The laughter would abruptly end, however, when they found out just how much these collectible cards sell for. Games like Yu-Gi-Oh!, Pokemon, and — the granddaddy of them all — Magic: The Gathering remain a $4.3 billion industry. Get good enough at making your own cards and it's more lucrative — and safer — than printing your own cash.
We talked to a guy who makes his living doing just that.
1. Better (and cheaper) than the pub
Whilst my tolerance to alcohol seems to diminish with every passing year, there's no doubt that as I get older I seem to end up down the pub more frequently, where the temptation to binge is always present. A regular games night therefore provides a feasible alternative to a weekly pub quiz excuse for boozing.
Of course I'd like to pretend that the average games night is a healthy, teetotal affair, but that would be a complete lie, at least as far as my own gaming group is concerned. So for us at least, this is more about budget than health.
2016 was an awesome year for gaming and I sure hope that trend continues into 2017. What follows is a number of intriguing titles that make me very optimistic about the coming year in mobile gaming. There are a lot of games in development of course, but these are the ones I am most looking forward to. As the year rolls on it is our intent to add to this preview as games of particular interest are announced—so bookmark this page and check back often!
Note: This is our iOS guide. The Android guide removes the confirmed iOS-only games and can be found here.
Antihero
Antihero is a forthcoming turn-based strategy game where you control a thieves' guild and vie for dominance of a seedy underworld. You'll recruit and equip thugs, saboteurs, assassins, and urchin and bribe, blackmail, and murder your way to success. It conjures thoughts of Scott Lynch's entertaining Gentlemen Bastards series of books for me. Antihero will feature both single-player and asynchronous multiplayer modes of play, and is currently testing a real-time multiplayer option as well.