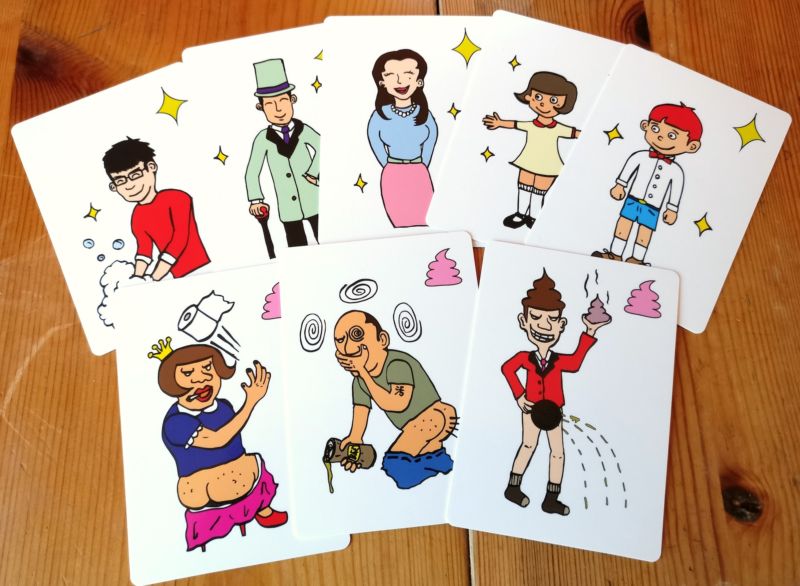 If the toilet is clean at the end of a round, the Clean Freaks score a point; if not, the Dirty Devils take one. The first team to three wins.
This isn't just a reskin of The Resistance, however. There's also an action round in Who Soiled the Toilet?, and it adds a dexterity component to the proceedings. Everyone gets to take a turn flipping their nut-brown poo chips at the box lid.
The Clean Freaks, of course, want to get their waste in the bowl because that is the essence of their nature. But Dirty Devils want to look like they want their waste in the bowl, so they must try to miss the pot "accidentally." They may even try to knock other people's poop tokens off the throne. After a couple of beers and a few punishing mind games during earlier rounds, this extra dexterity element is extremely funny—and surprisingly difficult—but it's probably not of a depth to inspire tournament play.
So it's all a bit different, and the theme is absolutely what makes the game. I cast no shade on its illustrious predecessor; there's absolutely a time and a place for sci-fi ninja women wearing cybernetic pleather push-up bras—but sometimes you want to unwind with a party game about deliberately defecating on the floor, you know?
Who Soiled the Toilet? is for people with friends who might be down for a fun bluffing game but are turned off by pictures of futuristic aristocrats in weird space gowns. Poop is inherently hilarious, and there's a certain impish innocence to the humor here that makes a game about dropping your guts even funnier. And that's totally fine—not every board game has to be the next cardboard Citizen Kane.
At this point just about the only image that we have of Karen Gillan in the new Jumanji movie is a picture of her in really short shorts and a crop top. The outfit has been criticized for being unnecessary, but the actress promises that it is. Gillan has taken the comments about the costume in stride because it's not the first time that she's had to deal with it, but she says that she wouldn't have accepted the role if the point was simply to be gratuitous sex appeal.
I've experienced something similar when I worked on Doctor Who and there was such an uproar about my costume when that was first revealed, so I thought it was happening all over again. But I have to say, I'd never take on a role that was truly gratuitous for no reason. There's a really valid reason why she's wearing that. My character is really not happy about it!
This isn't the first time that Karen Gillan has had to defend the Jumanji wardrobe. While it's difficult to know for sure why the costume exists, there does seem to be one compelling argument based on what we already know. We know that this new version of Jumanji will not take place around a board game, but rather inside a video game version of the title. The four main actors that we see are, from what we understand, avatars being controlled, or more likely, inhabited, by four teenagers who are playing the game. It's for this reason that Karen Gillan looks like an old school Lara Croft, because that's exactly the character trope that it is being represented here.
Bomb Squad is an extraordinarily challenging tabletop game that controls information and challenges your patience in the most devious of ways. If you're out for an incredibly brutal challenge you'll find something that you'll absolutely love. It's a well-designed game that set out to be very difficult and accomplished its mission admirably. If you're out to relax with your friends over a board game, stay far away from this title.
Get This Game If:
You like a strong challenge.
You work well under pressure.
You tend to play your turns quickly.
Avoid This Game If:
You're looking for a casual, relaxing experience.
You have a poor memory
You can't stand losing repeatedly. (You will. A lot.)
Every year I like to look back at my gaming habits. The theory is that even though its normal to look at the best games of the previous year (which I have done in both the Best Games of 2016 and our latest podcast episode) it's also good to look back at the games I've been playing the most, the theory being that it keeps track of my gaming tastes and shows which games have truly shone through.

Miniature Games
In the past, my gaming has been dominated by games such as Star Wars X-wing, Star Wars Armada and Warmachine, but unfortunately in 2016 I did not play a single tabletop miniatures game. Not one!
This is a little bit of a surprise even to me. Warmachine Mark 3 came out, I bought and even started painting the Infinity starter set, Operation Icestorm, and at the beginning of the year I had bolstered my X-wing squadrons with ships from The Force Awakens. So why didn't I play any miniatures games?
The Red Dragon Inn: Battle for Greyport is a cooperative deck building game set in the Red Dragon Inn universe. The game is fairly average in play time. Most game sessions last around an hour to an hour and a half. The game looks great. There are lots of great looking cards with a very similar style artwork to that in the Red Dragon Inn series of games. I really like the look and feel of the game as well as the durability of the cards. The rulebook is also great and has lots of great information that is easy to find what you're looking for. I especially like that there are achievements as well as variants included in the rules. The game itself is on the more difficult end of game play and doesn't exactly fit the normal style of most deck builders. I'm not exactly crazy about how new cards are purchased and added to the players hands but it's not a major deal either. I also wish that there were a few easier scenarios included to help new players get a better feel for the game without feeling so overwhelmed that they might not want to play it again. Fans of deck building games that are looking for a new take on the mechanic and don't mind a bit of difficulty should enjoy this one. I'd also recommend this game to fans of the Red Dragon Inn series of games. Overall the few minor squabbles that I have with the game don't detract enough from the overall fun factor for me. I'm sure some people might not like it but I do. For me, the pros heavily outweigh the cons. Give it a try. I recommend it. Just know that there are no drinks allowed on the battle field.
9 out of 10
Final Thoughts: 13/20
I am conflicted on this one….I can look past the components, I am not that big of a snob, if the game is good enough.  The strategy in this game really shines through but I don't feel like playing it very often.  When I do play it, I always come away thinking, "That was a good game".  I usually only get to play with 2 players, and it's fine, but it definitely gets better with more.  I will continue to keep it for a quick, medium heavy game but don't see myself playing it often.  We recently played our first 18XX game when we played 1846 The Race for the Midwest and was blown away at how much I liked it, but won't always have the time to play it.  The Last Spike had a very similar but very simplified  feel as 1846 did.  If Ticket To Ride is an introductory game, then I would think The Last Spike would be a close "Next Step Up" game while 1846 would be off the charts mind blowing.